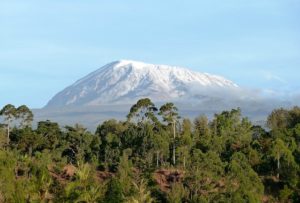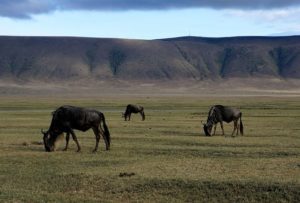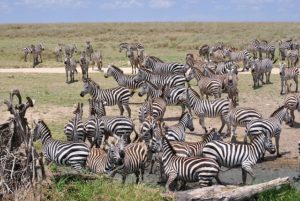 The Land
Tanzania is located in east Africa, just south of the equator, on the Indian Ocean between Kenya and Mozambique. With a land area of 141,219 square miles, it is slightly larger than the states of Washington, Oregon, and California combined. The country boasts Africa's highest peak, Mt. Kilimanjaro (19,340 feet), its largest lake, Lake Victoria, as well as the largest caldera in the world, Ngorongoro Crater. The famous paleoanthropological site, Olduvai Gorge, is located here, and tourists come from around the world to view the abundant wildlife of Tanzania's Serengeti Plain.
The People
Tanzania's population of 52 million is growing at a rate of 2.7%, one of the fastest in the world. Roughly two-fifths of the population live in urban areas, half of those in the port city of Dar es Salaam. There are 120 ethnic groups, or tribes, each with their own distinct language. In contrast to the situation in most other African countries, none of these ethnic groups dominate, either politically or culturally. Roughly one-third of Tanzanians are Christian (primarily Catholic or Lutheran), one-third are Muslim, and one-third practice indigenous religions. The national language, Kiswahili (Swahili), is a Bantu language which originated in the coastal region among the Swahili tribe and developed into a lingua franca heavily influenced by Arabic as a result of the presence of Arab traders in the region. It is the mother tongue of only a small number of Tanzanians, but is now widely used throughout the country, having been promoted after independence as a means of facilitating national unity. Kiswahili is the language of instruction in primary school, while English is the language of instruction for secondary and higher education and is also used extensively in government offices.
Tanzania has sustained an impressive economic growth rate of nearly 7% in the past decade, but improvements in human development have been marginal. According to one metric, the Multidimensional Poverty Index, 31.3% of Tanzanians still live in extreme poverty. Three-fourths of the population are employed in agriculture, and 85% of the country's exports are agricultural products. However, the bulk of agricultural production is from subsistence farming, and increases in production have come not from improvements in yield but from expanding the amount of land farmed, resulting in deforestation and environmental degradation.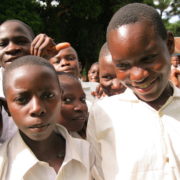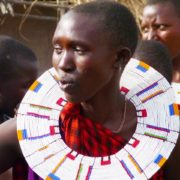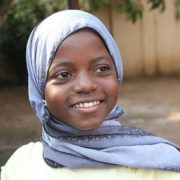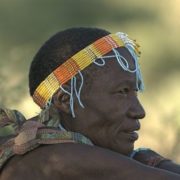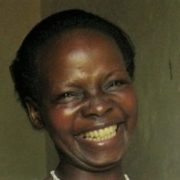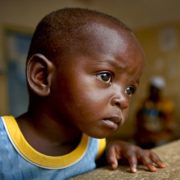 Tanzania was populated by various waves of migration, but the majority of today's Tanzanians are descendants of Bantu-speaking people who came from the Niger delta in the first century A.D. Around that same time, Arabs traders began to frequent Tanzania's coastal areas and eventually brought Islam to the region. The indigenous Swahili people of the coastal region were also skilled mariners and traders, and by the early 14th century they had established a thriving center of commerce at Kilwa, an island just off the coast south of present-day Dar es Salaam. At its peak the city-state of Kilwa controlled much of the Indian Ocean trade, controlling and profiting from the flow of items such as gold, ivory, and slaves from the interior of Africa, and a variety of products from India, China and Arabia.
By the late 1800's, Germany and Britain had both aimed their sights on the fertile farmland in parts of interior East Africa. An agreement signed in 1890 granted control of what is now Kenya to Britain, while mainland Tanzania (Tanganyika) came under German colonial control. The Germans introduced new crops such as cotton and sisal (used in making twine), built several railroads, and established missions which included simple schools for African children. One vestige of this German colonial rule is the Kiswahili word for school, "shule" from the German "schule."
The 1919 treaty of Versailles ending WWI granted a League of Nations mandate to Great Britain to govern German East Africa, which was henceforth known as Tanganyika. Britain placed Tanganyika under UN trusteeship in 1947. The country was granted independence in 1961 and Julius Nyerere became the first prime minister. In 1964 Tanganyika and the neighboring island nation of Zanzibar merged to become the Republic of Tanzania, with Nyerere as its president.
Witnessing with dismay the rise of a privileged urban elite class in post-independence Tanzania despite widespread and severe poverty in the most of the country, Nyerere decided to chart a new course for the nation. In 1965 he issued the Arusha Declaration, advocating for the pursuit of "African socialism", with the aim of achieving both economic and political equality within the country and fostering an attitude of cooperation and self-reliance in Tanzanian society rather than depending on outside aid. Despite some success in reducing inequality and substantial improvements in education and healthcare, the experiment in African socialism brought economic decline rather than prosperity. Nyerere resigned in 1985, refusing to accept IMF terms for structural adjustment of the country's economic and political system. The Tanzanian government subsequently accepted the IMF terms, including the eventual re-introduction of multi-party government, which occurred in 1992. Despite the failure of many of his socialist economic policies, Nyerere was beloved at home and respected as a moral leader throughout Africa. He was an outspoken supporter of majority rule in South Africa, a champion of the autonomy of "third world" nations, and an advocate for a more just global economic system.
Tanzania has been a pillar of political stability in Africa throughout its history, but the country—particularly the northwest region—has experienced multiple disruptions resulting from turmoil in neighboring countries. In 1978, the army of Ugandan dictator Idi Amin invaded and occupied part of northwest Tanzania but was eventually repelled by Tanzanian forces, who then joined with rebel Ugandans to drive Amin from power. Between 1993 and 2000, nearly 1.5 million refugees poured into northwestern Tanzania, fleeing genocide and political upheaval in Rwanda and Burundi. The HIV/AIDS epidemic was another huge disruption, and hit northwest Tanzania with particular severity. First discovered in Tanzania in 1983, by 1992, an estimated 7.2% of the population was living with HIV/AIDS. In 2014, roughly 36,000 Tanzanians died from AIDS-related illnesses and there were estimated to be nearly 800,000 AIDS orphans.